Please read the following terms and conditions carefully before you make any purchases.SHOP
Before you place an order online, you must read the terms and conditions carefully and acknowledge them fully.
Shop information
Open weekly: 10:00~18:00
Close: Saturdays, Sundays, Public Holidays and the year-end and New Year holidays.
Inquiry: info@takumicraft.com
Based on the Japanese trade regulations
Selling prices
The prices displayed are inclusive of the consumer tax.
Other additional costs including deliveries and bank changes are excluded.
Please be aware that each delivery cost differs.
Please refer to the list of delivery cost. >>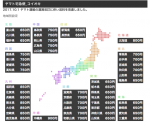 (Term of Payment is not shown in English)
Payment
Payment Method: Credit card, Payment at convenient stores, Pay-easy, Bank transfer.
The payment must be received within 5 working days for non-credit card purchases, otherwise the order will be cancelled automatically.
Delivery
We will send a confirmation for the payment and an estimated shipping date by email.
We ask for your patience as all the products are made by hand individually.
Any delivery delay will be notified by email.
We'll inform you by email when the order is ready for shipping.
Please let us know your specific date and time for the delivery so that we can arrange accordingly.
Cancellation policy
Once we receive a full payment, we are unable to accept any refund.
Please inform us (info@takumicraft.com) within 5 working days if you find any problem with your purchase. We will exchange it for you.
Inquiries
Please send your email to info@takumicraft.com for further information.
takumicraft
Yumiko Iizuka and Chisako Kawagoe
Go to
Online Shop page
Back to
the news (Koioki)
the news (The Ultra Series)