NIIGATA in 10 SHOP at 新潟ふるさと村
Thank you very much for visiting limited-time-only shop called NIIGATA in 10 SHOP.
Next event in Tokyo!
NIIGATA in 10 SHOP at DAIKANYAMA T-SITE
2019 8th November Fri. ー 10th November Sun.
Site: DAIKANYAMA T-SITE GARDEN GALLERY
17-5 Sarugakucho, Shibuya-ku, Tokyo
Experience this for yourself through these 10 themes.
Limited-time-only shop called NIIGATA in 10 SHOP opened from 1st August to 23rd September.
The products with functional beauty from 19 companies in Niigata welcome you at NIIGATA FURUSATO VILLAGE Bazaar Hall.
There are many kitchen tools, body-care products, accessories and so on. Of course they have beautifully crafted products by artisans such as 'Kamo Kiri Tansu' and 'Murakami Kibori Tsuishu'.
They will hold workshops with the craftsmen for visitors from 19th to 23rd September.
About NIIGATA in 10
This is a project to generate the beauty, usability, craftsmanship, experiencing the 10 themes will make it possible to feel the soul that goes into the production of NIIGATA's high quality manufacturing. We would like you to find out and feel the elegant and useful products from NIIGATA.
WEB: niigata-in10.jp
INSTAGRAM: niigata_in10
Host:Niigata Prefecture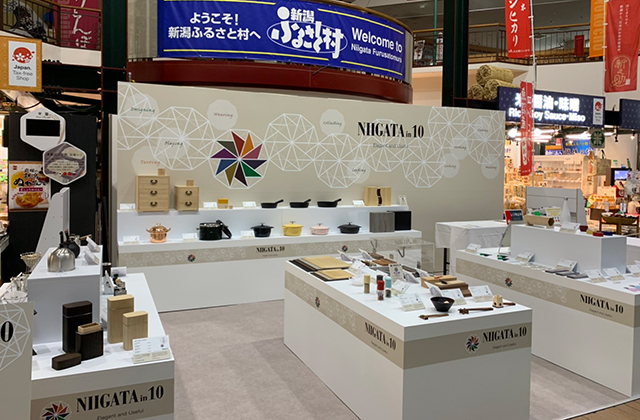 2019 1st August Thu. ー 23rd September Mon./Holiday
OPEN: 9:30ー17:30 every day
Site:Niigata Furusato Village Bazaar Hall 1F
Participants
Asakura Kagu Co.,Ltd.
Isoda Kibutsu Co.,Ltd.
Echigo-Kamekonya Fujioka Somekoujou
Kaneko Sougyo Co.,Ltd.
Karasawa File Works Co.,Ltd.
KAWASAKI PLASTIC CO.,LTD.
Kosugi lacquer-ware shop
SANJO SPECIAL CAST CO.,LTD.
SHINDO Co.,Ltd.
Suzuki Ishitaro Tansu
SAVE-INDUSTRY Co., Ltd.
Daishin Industry Co.,Ltd.
Nomoto Kirihako Seisakusho
Honma Seisakusho Co.,Ltd.
MASUDA KIRIDASHI KOBA
MARUTO HASEGAWA KOSAKUJO INC.
MIYAZAKI SEISAKUSHO CO., LTD.
Yamatani Works. Ltd.
Leger Co.,ltd.
Workshops with Craftsmen
2019 19th September Thu. ー 23rd September Mon./Holiday
Next event in Tokyo!
NIIGATA in 10 SHOP at DAIKANYAMA T-SITE
2019 8th November Fri. ー 10th November Sun.
Site: DAIKANYAMA T-SITE GARDEN GALLERY
17-5 Sarugakucho, Shibuya-ku, Tokyo
NIIGATA in 10 SHOP at NIIGATA FURUSATO VILLAGE
NI10F_flyer_ENG Flyer(English)PDF download
NI10F_flyer_JPN Flyer(Japanese)PDF download
Host:Niigata Prefecture
Inquiry about the events
Commerce and Regional Industry Promotion Division, Department of Industry and Labor, Niigata Prefecture
Phone:+81(25)280-5243
Email:ngt050020@pref.niigata.lg.jp
---

NIIGATA FURUSATO VILLAGE Information
OPEN 9:30-17:30 every day
Niigata Furusato Village
2307 Yamada, Nishi-ku, Niigata-shi, Niigata
Phone: +81(25)230-3000
http://furusatomura.pref.niigata.jp/eng
Admission free