WORKSHOP REPORT
Niigata is one of the top regions for producing traditional crafts in Japan. Hinako is looking forward to seeing crafts being made and experiencing crafts making herself.
Mom and Daughter, Michiyo and Hinako from Kanagawa prefecture have been to Niigata for the first time. Hinako has been interested in traditional crafts for some time so she was interested in learning some aspects of the industry.
One spring day, Michiyo and Hinako went off to visit Niigata in search of traditional crafts.
They were keen to see as many crafts as possible during their time in Niigata.
① 'makie' workshop at Yamada Butsudanten 'Nuriba' in Sanjo Manufacturing School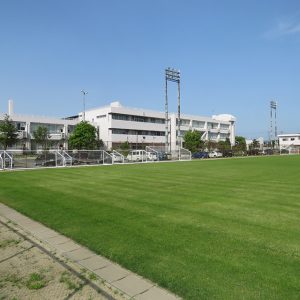 They took a Shinkansen to Tsubame-Sanjo station. When they arrived, they went to Sanjo 'Monozukuri' school (Sanjo Manufacturing School) straight away.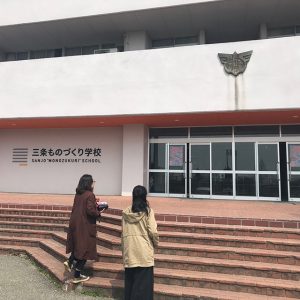 The building used to be an elementary school but now it has turned into a place where the Sanjo city council gave the management contract to the private sector. It has been established in order to introduce brilliant local traditional crafts and develop business opportunities inside and outside of Sanjo. Workshops are held for visitors.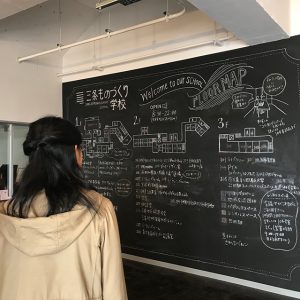 There are showcases displaying manufacturing structures in details at the entrance.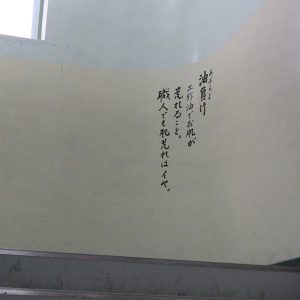 Each area has been decorated with interesting descriptions related to the craft. It offers unique and enjoyable time for all visitors.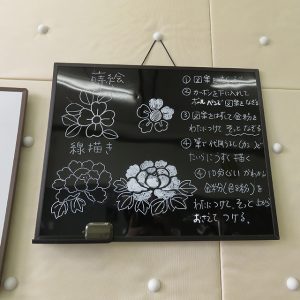 They took part in 'makie' workshop at Yamada Butsudanten 'Nuriba'. This workshop is held every weekend. They made an appointment for the 'makie' workshop beforehand. It was the first time for them trying their hand in makie painting.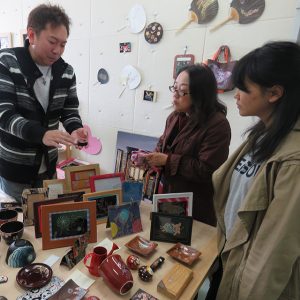 A qualified 'makie' craftsman introduced the history and the process of Butsudan making in the workshop at first. You can choose one from various things such as a smartphone case, chopsticks, coasters and so on. They chose a small hand mirror to paint a traditional pattern at the back of it.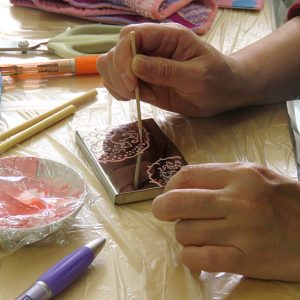 You can select from a great number of paper templates, or if you are confident enough, you may choose to paint whatever you wish.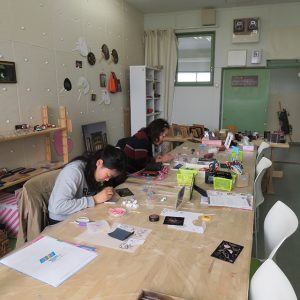 A substitute paint was used for the workshop for the protection of your skin for the workshop.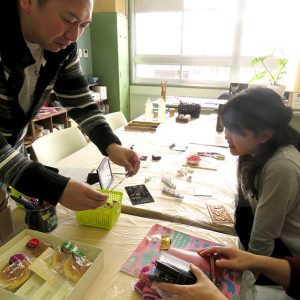 They are concentrating on painting the pattern they chose under watchful eyes of the instructor.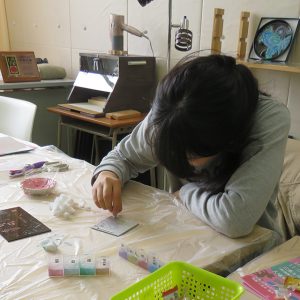 Michiyo is coating the base. Once it has been done, colored powder is sprinkled on it and leave it to dry for about 30 minutes.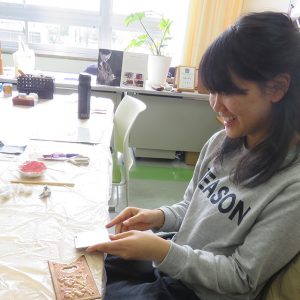 Michiyo and Hinako were very pleased with the creation each and excited to take them home with them.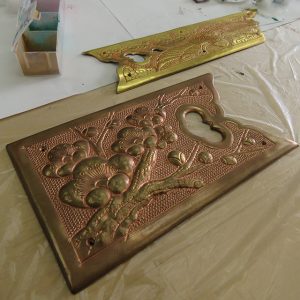 There is another workshop by Sanjo Butsudan called 'kanagu (clasp)'. A craftsman is showing an example.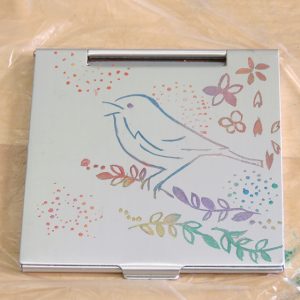 Please check the workshop schedules on the homepage and making a reservation is highly recommended.
TEL: 0256-34-6700 8:30~22:00HP Sanjo Manufacturing School
It cost 1,200 yen each to Michiyo and Hinako for the workshop on this occasion. However, the fee may varies depending on the materials used in the workshop.
② 'Paper Knife making' work shop course at 'Sanjo Kaji Dojo'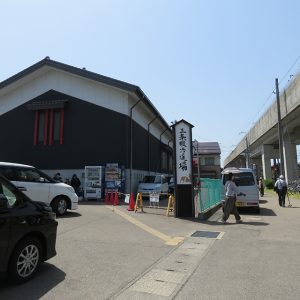 And then they went to 'Sanjo Kaji Dojo' next. You may find it little difficult to get to but there is a big signboard behind the railway track.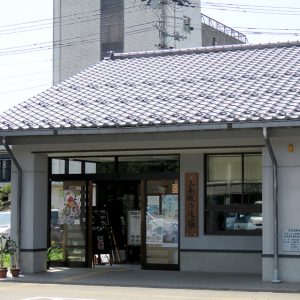 Sanjo is known as one of the leading cities for ironmongery throughout Japan. It has a long history of the craftsmanship. Anyone could learn about their skills in the 'Sanjo Kaji Dojo'.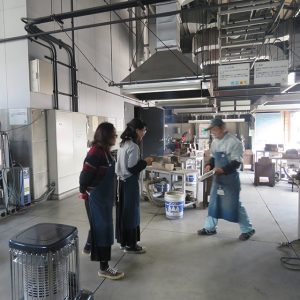 Some experienced craftsmen are standing by to teach beginners or someone with more experiences.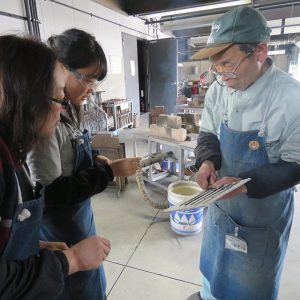 Michiyo and Hinako chose the 'Paper Knife making' course. This course is held every Sunday. There are other interesting courses are also available such as 'Nail making' and 'Knife sharpening'. They put on an apron and were given the material, 'Gosun-kugi (appox. 15cm nail)'.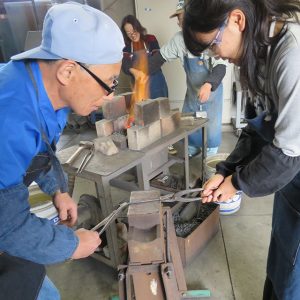 Skilled craftsmen are there to offer any advise or assistance.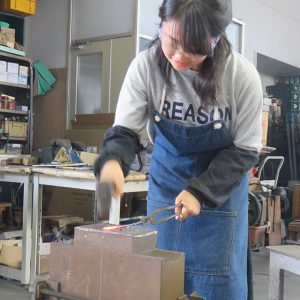 Sparks may fly when you hit the nail but have no fear, if you use the way you've shown by craftsmen, no need to worry at all. If you are over 10 years old, anyone can try it!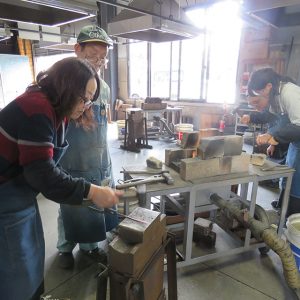 Then you'll see the nail changing gradually into a knife shape eventually.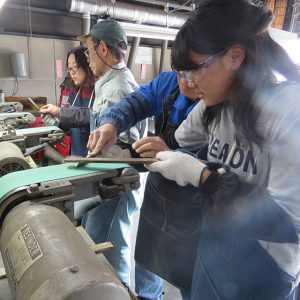 As a finishing touch, the failing machine was used to smooth the surface even.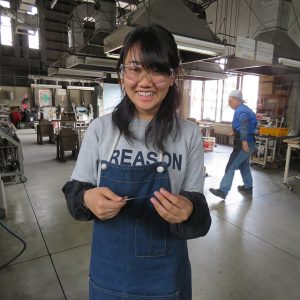 You can experience each stage of hammering, scraping and polishing step by step during the course. It takes appox. 30 to 40 min. entirely.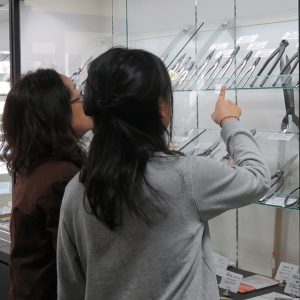 Metal samples of works by the great craftsmen are on display in the showcases, such as nail clippers, garden shears, kitchen knives, etc. Michiyo bought a handy knife for her husband as a little souvenir.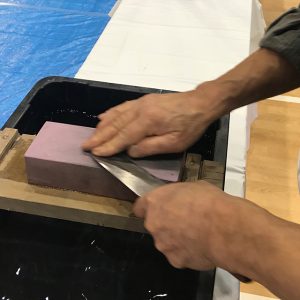 The courses varies from time to time, so please check the homepage for more information.
workshop:everyday excdept close day
9:00〜17:00 (cut-off time 15:30)
close・・・Mondays, 12/29 to 1/3 (If the Monday is holiday, the next day)
※We accept request of participate everyday except Mondays。
HP kajidojo.com about schedule.
Sanjo's tourist memo
'Sanjo Masturi' (Sanjo festival)
Hachimangu Spring Festival is held on 14th and 15th of May each year.
The extravagant Daimyo's procession starts from Hachimangu, and goes through the town to the other shrine. After turning around, it eventually returns to back to the original point. At the front of the procession, there are people dressed as 'Yakko'. They are an important cultural heritage. The other popular character is called 'Tengu' with a very high 'Geta (wooden clogs)' in the procession.
The person who plays the role of 'Tengu' has to spend days for the preparation. 'Tengu' is escorted by the shrine parishioners and walks with a pair of two teeth clogs at the beginning and lose one tooth from the clog later on. 'Tengu' has to balance very carefully so that he doesn't fall down. If he does, it bring a bad luck according to the legend.
'Mikoshi' was built by Sanjo craftsmen with their individual expertise.
'Maikomi'- 'Mikoshi (portable shrine)' is carried around the shrine at high speed three times. Usually, fathers with small children watch the 'Mikoshi', because the legend says that their children would grow up healthy if they do so.
Father and children are also dressed for the festival. Fathers wear white traditional 'Tabi (socks)' and children's faces are painted for the celebration. It is good to see so many fathers having kids on their shoulders.
We found a metal work on the large red gate of a temple. It showed Sanjo's craftsman's brilliant works.
③ Making pencil box at one of 'Kamo Kiri Tansu' studio
Sanjo and Kamo are close enough to go around within a day.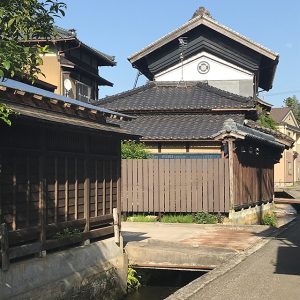 After Sanjo, they went to Kamo. It is famous for Paulownia wooden furniture called 'Kamo Kiri Tansu' which is a well-established a brand name for the town.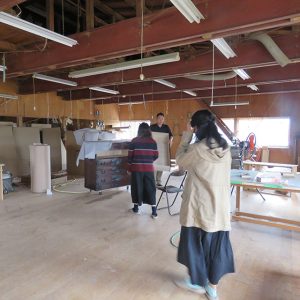 Michiyo and Hinako made an appointment first because they wouldn't normally accept visitors. They went to 'Nomoto Kirihako Seisakusho' this time.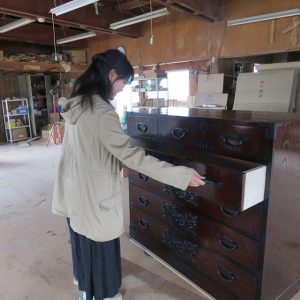 They found furniture made of Kiri (Paulownia), Keyaki (Zelcova) and etc. in the studio.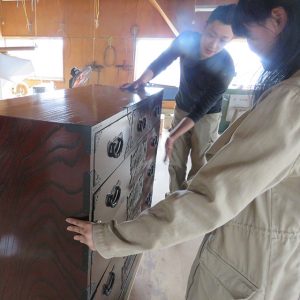 Hinako was surprised to see how smooth the drawers were for a touch. It could have been the first time to learn how 'Tansu' were assembled.(Photo: sendai tansu)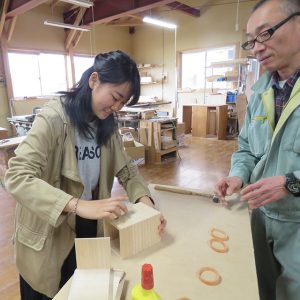 She put together a pencil box from pieces in the workshop. An experienced craftsman showed her the way she could put together each piece.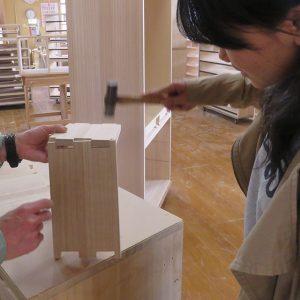 She found out that boxes were assembled without use of a single nail.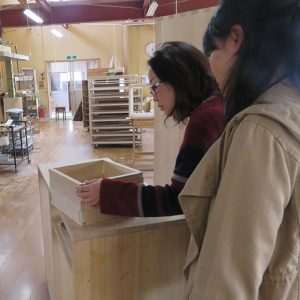 She was told that making kiri box successfully would be the first step for making a 'Kiri Tansu'.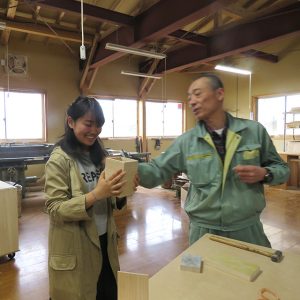 You can keep your box as a souvenir.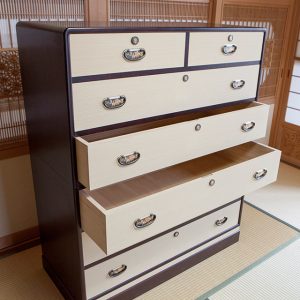 Please make sure to call and make an appointment for any visit.
今回ご紹介したワークショップをしてくださったのは、野本桐凾製作所さん。現地で見学/体験をしたい方は、予約可能か必ず事前に問い合わせてお出かけください。
Nomoto Kirihako Seisakusho TEL: 0256-52-1513
Kamo Kiri Tans Association HP TEL: 0256-52-0445
They had a great time with 3 workshops on this trip. They said that they would like to try some other workshops such as waving next time. After all the hard work, they enjoyed Onsen and Sushi before heading home.
Michiyo was interested in craftsmen's work but she had no idea what was involved, so this was a good discovery trip for her with her mom.
They enjoyed 'onsen' and fresh sushi from Japanese Sea. And they managed to include some sightseeing. The trip was most enjoyable and satisfied, they said. Make it more interesting by combining with learning and experiencing like Michiyo and Hinako when you plan a trip to Niigata.
Kamo's tourist memo
'Koinobori' on Kamo River
Snow Camellia in shrine park blossom beautifully in the early spring. From middle of April to all May, hundreds of 'Koinobori (Carp)'· are displayed above the river 'Kamogawa'. The view of waving plenty of colourful 'Koinobori' in the clean river and blue sky is splendid.
Kamo is called 'Small Kyoto' with its historical streetscape where remain here and there. There is a local sake brewery 'Masukagami' and have remains of old houses along the river so strolling river side is interesting.
The river used be used as delivery cannel for the merchandise 'Kiri Tansu'. There are some trace of such cannels in the town. The view of laying Kiri wood board to dry in the sun is a common sight in this area.
Aumi shrine in Kamo has a building with beautiful wooden sculpture on the inter joist. They are best example about the skill of the area. It might be interesting to visit and enjoy a local area in this regard.